The Kempthornes
Childrens Entertainers, Magician, Balloon Modellers, Walkabouts, Circus Skilled Performers, Knife Juggler, Jugglers, Mime, Robotic Mime, Circus Workshops, Storytelling, Tarot Reader, Host & Compere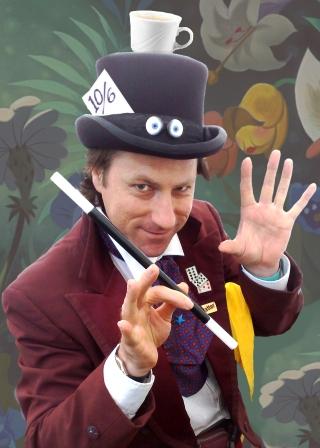 Entertainers available London and the South based in South Wales

Variety of Characters Available:
* Alice in Wonderland Themed: Magician, Balloon Modelling Rabbit, Mad Hatter, White Rabbit
* Christmas Themed: Father Christmas as himself, Balloon Modelling Elves, Elvish Circus Workshop, Juggling Elves, Juggling Jack Frost
* Halloween Themed: Magical Sorcerer, Magical Wizard and his Dragon, Vampire Magician, Balloon Modelling Witch, Storytelling Witch, Tarot Reader, Mime Characters: Two Headed Lord / Monster, The Henchman / Two-Headed Monster
* Victorian Themed: Professor Strange the Juggling Magician, Juggler, Magician, Circus Workshop;
* Tarot Reader
*Host / Compere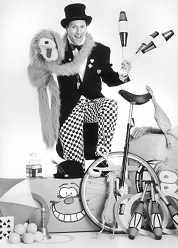 Strolling Victorian Juggler & Magician
Authentic Victorian juggling, balancing tricks, wickedly clever magic and knockabout comedy are all performed with a delightful Victorian elegance and verbal dexterity that makes Allin Kempthorne, Victorian Vaudeville Entertainer and ideal attraction for Victorian events and strolling street entertainments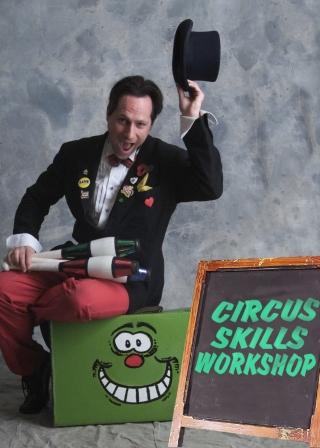 Circus Skills Workshop
(Allin Kempthorne and Pamela Kempthorne)
The INSPIRED LUNACY Circus Skills Workshop is an enormously fun and highly interactive event where you can try your hand at a huge range of fun circus skills. We create a 'Safe Circus Zone' with our own coloured floor mats and provide one, two or more tutor/performers to supervise the event and give you help and encouragement as you play and learn new skills.
They supply all the necessary equipment for you to enjoy learning Stilt Walking, Hula Hoops, Plate Spinning, Juggling Balls, Juggling Beanbags, Juggling Clubs, Juggling Hoops, Juggling Scarves, Peacock Feather Balancing, Diabolos, Devil Sticks, Balloon Modelling, Yoyos and more.
Suitable for all ages and for any number of people.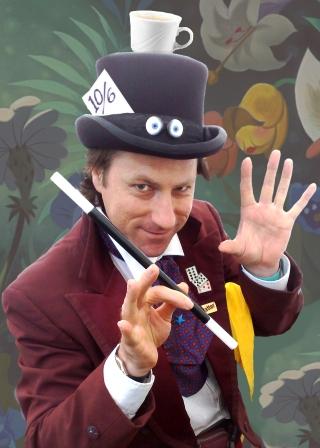 The Mad Hatter
(Allin Kempthorne)
A mind-bending mix of magic, balloon modelling and juggling tricks with a quirky Alice in Wonderland madness!
Available for Walkabout with juggling, magic and balloon modelling.
Mad Hatter's Tea Parties
Event Compere
Also available as a lively walkabout double act with the White Rabbit.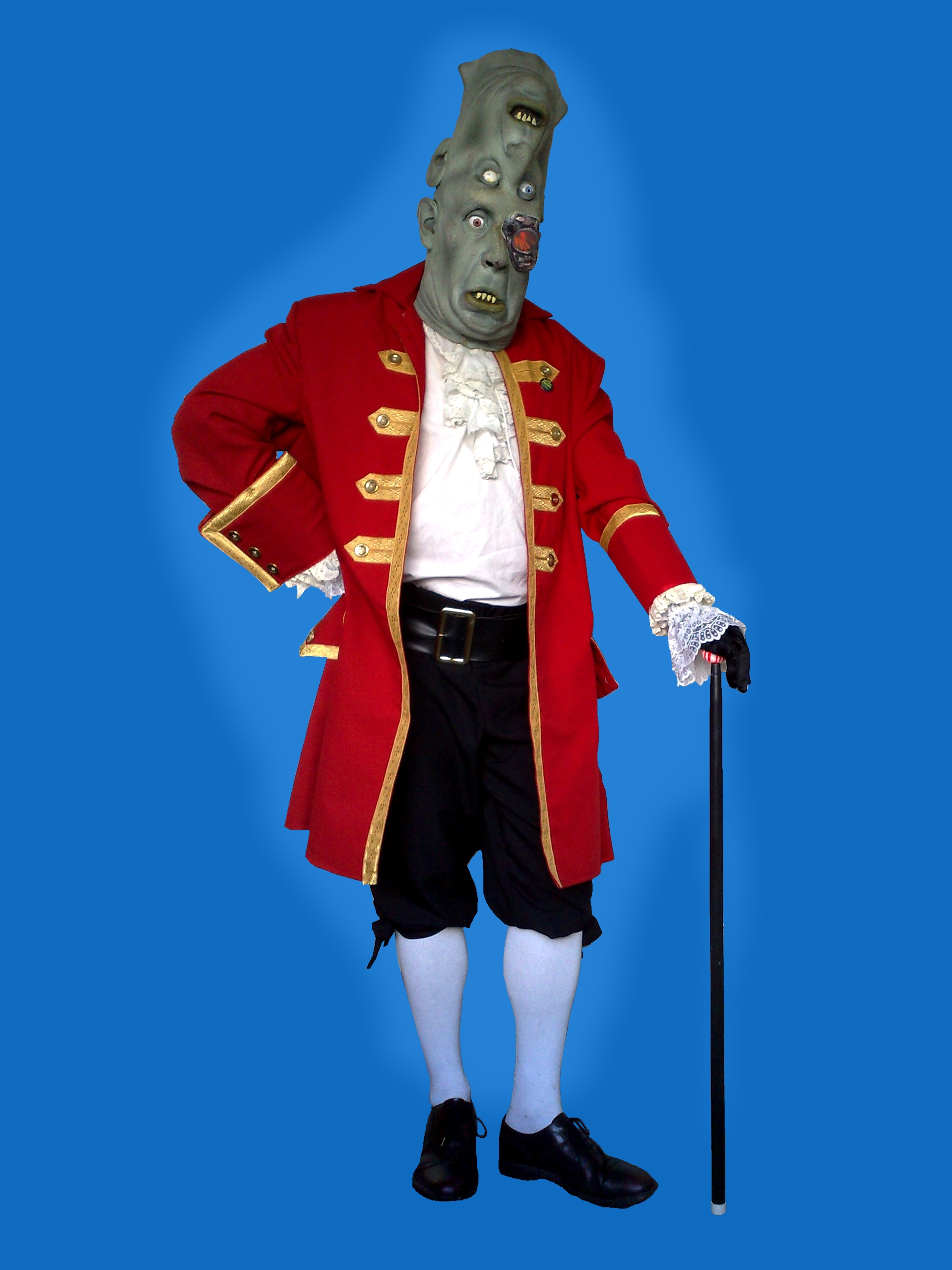 Lord Two-Head
(Allin Kempthorne)
If you run a shopping centre, theme park or town centre entertainments, Lord Two-Head is an ideal and highly visual walkabout mime character.
In his olde-worlde costume this crazy walkabout two-headed monster man is an eye-catching and entertaining way to give your venue that special Gothic Horror Halloween vibe. You know what they say... ' two heads are better than one!'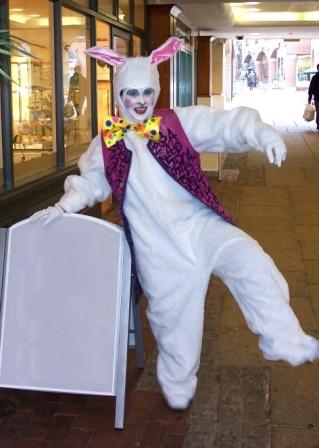 The White Rabbit or Easter Bunny
(Pamela Kempthorne)
Book our energetic Funny Bunny for clever balloon modelling, Easter promotions or energetic and funny character walkabouts.
Available for Balloon Modelling, Character Walkabout, Easter Promotions.
Also available as a lively walkabout double act with the Mad Hatter.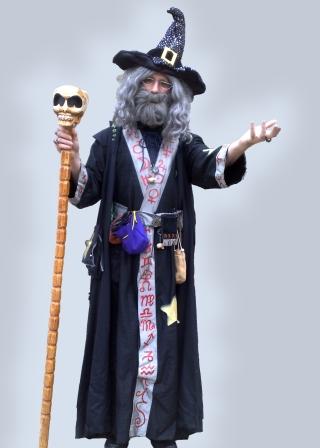 Runefungle the Sorcerer
(Allin Kempthorne)
The spooky mystical magic of Runefungle is great for adult or family audiences for Medieval, Fantasy or Halloween style events.
Available for Close Up Magic for Adult or Family Audiences, Walkabout Characters.
Also available with Wanda the Wacky Witch as walkabout double act.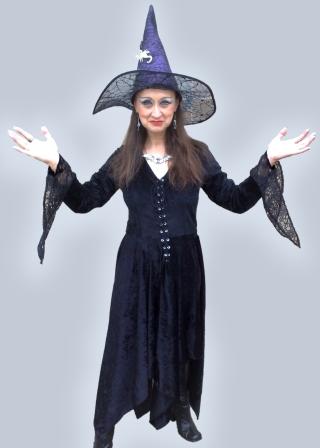 Wanda the Wacky Witch
(Pamela Kempthorne)
Wanda the Wacky Witch is a friendly and slightly spooky Witch character for Children's Parties or Family Events.
Available as Balloon Modeller, Storyteller, Walkabout Character, Face Painter.
Also available with Wizzall or Runefungle as a double act.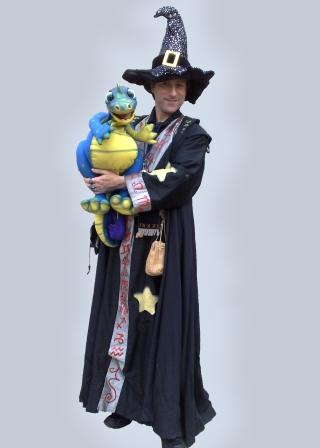 Wizzall the Wizard
(Allin Kempthorne)
Wizzal the Wizard is the children's favourite friendly Wizard. Cheerful, chatty and full of tricks, he brings a sense of magic and wonder to any Children's Event.
Available for Children's Magic, Balloon Modelling, Storytelling, Puppets, Walkabout Character.
Also available with Wanda the Wacky Witch as a double act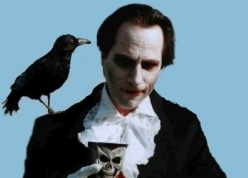 Baron Blood, The Vampire Magician
(Allin Kempthorne)
Your guests will be entertainers, excited and amazed by the ghoulish magic of Baron Blood the vampire magician. With a wit as sharp as his fangs, Baron Blood mixes amongst the guests with just the right combination of scary and friendly to excite and delight with his skilful magic and silly vampire humour!
Baron Blood is a hugely popular act at venues of all sizes including Halloween seasons at Butlins, shopping centres and private Halloween parties, plus more than you can shake a pointy stick at!

Other Characters are: