Abba A Rival Video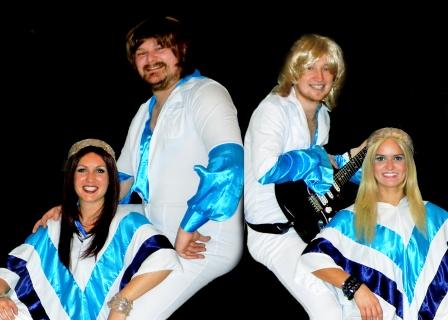 Abba A Rival Tribute to Abba Entertainers in Glasgow

This Dynamic Abba Tribute Act have toured all over the world as a 5 piece Abba band including Russia, Israel, Canada and Europe. They have arrived back in on home turf of Scotland with their amazing live show.
One of the most glamorous Abba Tributes out there, they bring back Abba as they were in their heyday - gorgeously leggy hot pant wearing 70s icons (and that was just Benny & Bjorn)!
Their show features sequins galore, hot pants, platform boots and all your favourite Abba hits - all the best gold record selling hits from the super group
Abba A Rival are experienced at performing their Abba revival shows in front of thousands at festivals but are equally as happy playing private parties or smaller venues.
They also offer a number of other sets to compliment their Abba show, including 60s, 70s, 80s, Dirty Dancing, Grease & Party Sets!
Completely self contained with Bose PA and LED lights this dynamic act are guaranteed to turn any crowd into Dancing Queens!
Abba Tribute Shows are typically either 1 hour or 2 x 45 minute sets (longer if combining with 70's show) with several costume changes.

Reviews:
ď Choreography identical to the legendary band of the 70ís. Everything was perfect! Ē
The Parisien
"The Abba A Rival interpretation of Mama Mia was nothing less than sublime. "
The Mayor of Brussels
" They brought the house down. We canít wait to have them back."
The Tron Theatre, Vic Bar Glasgow