Damian - The Bubble Guy
'Believe - a - Bubble'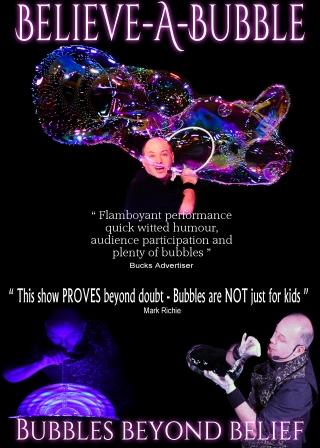 Bubbleologist available for bookings from Hampshire

Damian is a Two Times Guinness World Record Holder. An award winning and unique speciality act for the family market.
Damian is a skilful performer blending incredible and stunning bubble artistry with comedy, to create one of the most joyful and visual treats for all ages. Bubbles of all shapes and sizes from teeny tiny ones, to bubbles that will fill the stage bringing gasps of astonishment from all ages!
During the show you will see -
Clear bubbles, smoke bubbles, steam bubbles, bubbles inside bubbles, inside out bubbles, bubble domes, smoke bubbles inside clear bubbles, bubble trampolines, clear bubbles inside smoke bubbles, bubble volcanoes, bubble tornadoes, galaxy bubbles, bubble carousels, cube bubbles, long bubble tubes, huge bubble arches and even people INSIDE bubbles!
There's audience participation and jaw dropping bubble antics, Believe-a-Bubble is one of the most FUN shows on the circuit today.
Believe-a-Bubble is not just a kids show, there is content in there that will engage and enthral the adults too.

The venues floor is protected at all times and there is virtually NO MESS left afterwards.
The show can also be fully self-contained with P.A.
Performance is a one hour family friendly cabaret show
smaller spots are available from 15 to 45 mins

Reviews -
'A welcome diversion of variety' Mike Martin, UK Cabaret Magazine
'The visual impact for a family is a delight' Mac McCallum / John Fowlers