Statuesque Physical Arts
with Victoria Armstrong
Corporate Entertainers, Human Statue, Living Statue, Stilt Walker, Walkabout Character, Fire Performer, Dancer, Face Painter, Balloon Modeller, Art & Crafts, Team Building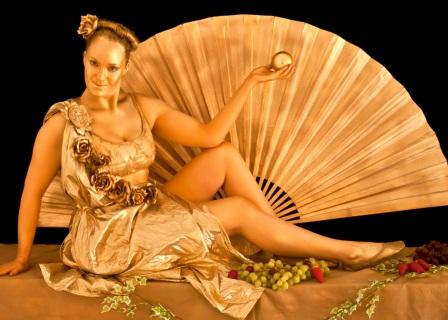 Human / Living Statues by Vicky Armstrong available for bookings from Tyne & Wear

Victoria Armstrong creates her own style of costumes. Her Human Statues add something special to any event, bringing you that 'wow factor' that will make your event stand out in your guest's memory. They also offer a fantastic photo opportunity so that you guests will have a lasting memento of your event. The Walkabout characters add a bit of the unusual with her 'unique' costumes such as the Cave Woman, Ghost Child, Mrs Lovett's Meat Pies etc.
A perfect addition to all sorts of events from Balls, Parties and Weddings to Fairs, Festivals and Product Launches.

Human Statues / Living Statue Characters
Chef Human Statue / Living Statue / Walkabout

Ideal for Food Themed events

Clockwork Doll - Human Statue / Living Statue / Walkabout

is a fun steampunk inspired statue and walkabout character that never fails to please audiences of all ages. The key protruding from her back really turns, so members of the audience can turn her key, wind her up and watch her go! When this happens, she comes to life, moving, walking, waving and maybe even blowing kisses to the person who turned the key. Then she freezes until she gets wound up again.

Golden Delicious - Human Statue / Living Statue / Walkabout

Gold Living Statue, Gold Venetian Statue or Walkabout, Grecian Statue. Ideal for Parties, Balls and Weddings. She adds a touch of decadence and glamour to any event. Golden Delicious sits, stands or lies with a platter of fruit / sweets / canapes / drinks for your guests to take and enjoy. In this role she makes a fantastic entrance feature to a celebration, but she is also available with a large golden globes if the platters are not appropriate (Also available in silver). This statue is also great as an alternative to standard promotional sampling methods at a product launch or promotions. She can be used to give out free samples in a unique and fun way.

Ice Princess or Snow Queen - Human Statue / Living Statue / Walkabout

is a perfect addition to any event or celebration with a winter ice or Christmas theme. Swathed in luxurious white fur cape with a sparkling tiara and large silver globes, she is guaranteed to delight and enchant audiences.

Little Ghost Girl - Human Statue / Living Statue / Walkabout

is a spooky and eerie statue or walkabout character for Halloween. She is a sad little girl lost in limbo with only her teddy for company in search of a playmate at your event. She will engage your guests in her favourite games before unexpectedly freezing or singing a nursery rhyme as they pass her by.

Mermaid - Human Statue / Living Statue / Walkabout

Ideal for Themed events [Available as Statue or Walkabout]

Miss Faversham - Human Statue / Living Statue / Walkabout

- from Great Expectations, is ideal for Halloween characters, Themed Horror events. Available as a Living Statue or Walkabout Character

Mrs Lovetts Meat Pies - Human Statue / Living Statue / Walkabout

- is based on Sweeney Todd stories, she is a Mrs Lovett's Meat Pies statue. This humorous living statue brings a whole new meaning to the phrase 'finger food'. She carries a tray of her 'special pies', fake fingers and hair sticking out of the crusts - guaranteed to give a surprise to anyone who might fancy a little snack! Ideal for Halloween, Themed events, TV or Film

Rabbit - Human Statue / Living Statue / Walkabout

The Rabbit is based on the White Rabbit from Alice in Wonderland. it's a fun filled balloon modelling bunny that hops around your event with her giant clock, reminding everyone 'Don't be Late!' for your activities, demonstrations or workshops etc that are happening elsewhere at your event.

Snow Queen - Human Statue / Living Statue / Walkabout

- is beautiful and enchanting, with a dress that sparkles like ice and a flowing cape. The Snow Queen will grant you your wish with a sprinkling of her magic snow. She is extremely popular with young children and is wonderful for winter, ice and Christmas themed events, parties or grottos. [Available as Statue or Walkabout Entertainment]

Victorian / Edwardian /White Lady - Human Statue / Living Statue / Walkabout

- is great for Victorian or Edwardian themes or Gothic and Halloween events. The statue is graceful, elegant and sophisticated in a beautiful gown with a long train. She sits or stands interacting with guests, moving one moment and freezing the next.

Rainbow Fairy - Walkabout on or off Stilts

Add a splash of colour to your event as she travels around your venue blowing bubbles,

spinning her rainbow poi and making balloon models. [Available on or off stilts, Children's parties, Corporate events etc

Children's Parties
Children love Victoria's Dance Parties. Simply choose a theme from any below and let the kids enjoy games and dancing and performing their very own dance routine at the end of the party. Themes such as:
Fairy Princess - Get your party frock and fairy wings on, and twirl and swirl your way through a magical party of games and learn how to dance like a real fairy princess.
Pirates - Come along in fancy dress and have some swashbuckling fun. They'll play Pirate themed dance games and choreograph a buccaneering dance routine that will put the 'aaaaarrr' in 'paaaaarrrty'
Show Time - Put some razzle dazzle into your birthday! Let Statuesque Physical Arts know what your favourite show tune is and they'll choreograph a show stopping number to it just for you.
Street Dance - After a warm up of dance games to the latest tunes Statuesque Physical Arts will teach you some fresh, funky moves and together you will choreograph a dance routing to show off your cool new moves in a performance for all the parents at the end of the party.
Choose a tune - Tell them who your favourite singers / bands are and they'll use it throughout your party with a routing choreographed for you to your own personal No.1

Also available as
Stilt Walking Characters
Cave Woman Stilt Walker
Geisha Stilt Walker
Rainbow Fairy Stilt Walker

Fire Performer, Dancer, Face Painter, Balloon Modeller, Art & Crafts, Team Building

What people say about Vicky...
'your rainbow fairy was superb 10 out of 10 kind regards Carol and Crew at the Shire'