Creature Encounter
Puppetry and Animatronics, Storytelling, Walkabout Characters, Promotional Characters
Badger, Birds, Cow, Dinosaur, Dragon, Dragon Master, Elves, Exotic Birds, Fairy Queen, Flying Carpets, Fox, Goblins, Highland Cow, Jack Frost, Otter, Penguins, Rabbits, Reindeer & Elf, Smoking Dragon, Snow Lion, Snowmen, Squirrel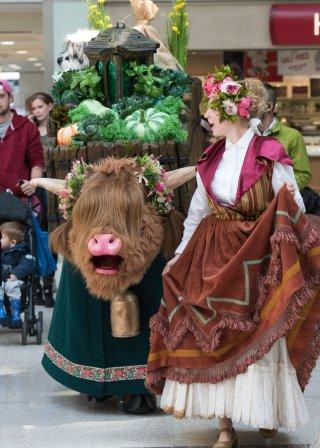 Puppetry & Animatronics by Creature Encounters available for hire from West Midlands
Equity Members

About Creature Encounter
Michael Crouch and Jamie Duncombe of Creature Encounter are Street Theatre Alchemists, Theatrical Engineers and Master Puppet Makers, continuing in the proud and ancient traditions of nomadic Showmen. Our mission to turn the world on its head, ignite the imagination by achieving the impossible & serve humanity by re-inventing the Puppet, Clown and Mask for contemporary audiences. We fuse Special Effects, Artistry & Street Theatre Spectacle to create a picture book world of roving eccentrica and performance. Inspired by the belief that Street Arts are the most accessible, democratic and altruistic of art forms, we deliver our exotic beasts in our communities beating cultural & economic hearts. Touching the residents, transforming the space & hoping to leave these communities, our society and this world with a sense that for the courageous heart...anything is possible!
Available for Puppet Festivals, Corporate Events, Galas, Shopping Centres and most types of events...
Here are a few of their ideas now available
| | | | |
| --- | --- | --- | --- |
| Goblins | Festive Elves | Snow Lion | Hopalot |

Dinotopia

Flying Carpets

Fox & Otter

Epico the Dragon & Keeper

Squawk

Gorilla & Hunters

Badger & Squirrel

Reindeer & Elf

Storytelling Elves

Fairy Queen &

Sir Aurelious

Penguin Family

Snowman Family

& Jack Frost

More about their acts
HIGHLAND HARVEST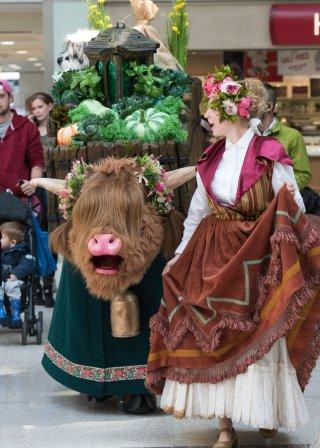 From high in the Scottish Glens comes Hettie the Highland Cow, ridden by her friend Mr Tatters abroad their barrow brim full of vegetables. They are accompanied by Farmer Geddon or his daughter Rosie Organic on their trip to market. Help the Farmer train this new cow to trust children, see if they have your favourite vegetables and help Mr Tatters look for slugs! Interact with the characters, dance to their music and celebrate the bounty of a Highland Harvest with all the fun of the farm.
3 x30 mins sets per day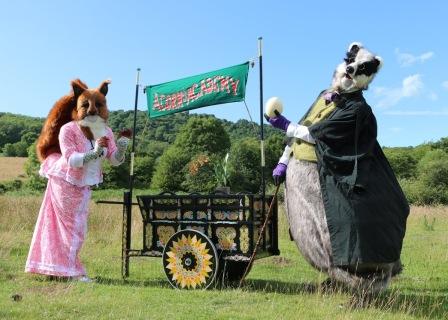 Professor Bramble the Badger pushes a beautiful gypsy cart which he uses as his mobile class room. He and Head Mistress Miss Nutella Nutkins are on a field trip, collecting new objects for their show and tell collection. These objects in turn become part of a game of Animal, Vegetable or Mineral? Each introduced to the children by a puppet guest lecturer. The game allows children to discover the wonders of the Natural History as they handle real fossils, minerals and other materials.
3 x 30mins or 2 x 45 mins sets per day

DINOTOPIA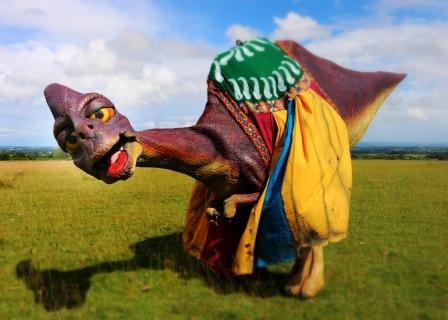 Meet the adventurer Capt Jon Voyage and his beautiful dinosaur 'Odysseia the Parasaurolophus' torn from the pages of a Boy's Own adventure, and shipwrecked on our shores. Help the Capt as he studies his map, in an attempt to return the beast to the late cretaceous period of the Land that Time Forgot. Or make friends with Odysseia and help her understand that not all humans are barbaric cavement and women. Whether you join them on their quest or pose for a selfie, you are sure to have a Jurassic lark!

EPICO THE DRAGON & SIR AURELIOUS JONES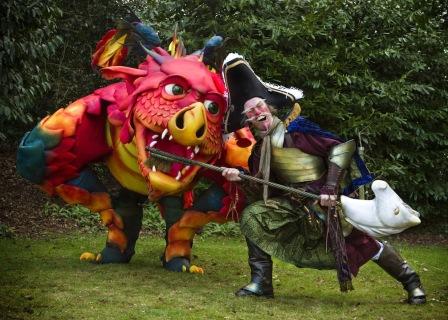 Sir Aurelious Jones, the pirate knight, gathers a crowd and chooses three children from the audience. Having passed three tests and won the Golden Breastplates they accompany Sir Aurelious on a quest to find and tame the beast! In the Dragons Lair the children meet Epico and must rescue Sir Aurelious from certain death before teaching him how to become friends with the dragon. Having saved his life, the children are knighted before leaving the heroic world transformed. At the end of the show there will be a once in a lifetime opportunity for all to get up close and personal with biggest, brightest & most beautiful creature ever seen. You could make friends...but only if you dare!

Pushing a wooden cart through the crowd, Sir Aurelious Jones brings smiles, laughter and the chance for the brave to witness true magic! Aboard the cart stands a small tent which hides a secret. No less than the last surviving Fairy Queen!
Aurelious will invite those inquisitive souls to step forward, peer inside the tent and witness this most precious pint-sized person. Proving that even the smallest of us can leave the biggest impression, the Fairy Queen will touch your heart and leave you wishing for the magic to last forever!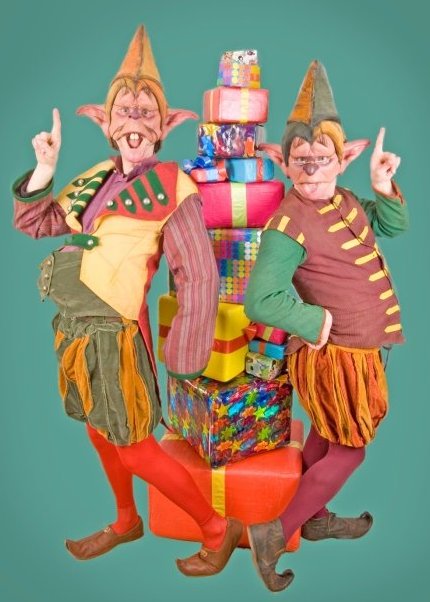 Two colourfully dressed elves carry a spectacular swaying eight foot tall tower of presents. Armed with quill, clipboard, pocket watch & whistle Head Elf Horris attempts to keep their delivery on schedule, as Junior Elf Norris struggles and clowns with the teetering tower of presents.
Both elves are ever watchful for people with names on the list of those who have been good!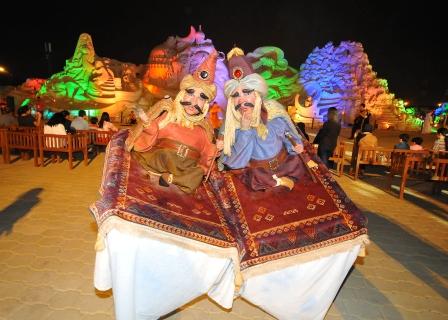 From across the desert sands come legendary storytellers Ruby Murry and Baba Ganush on their magical flying carpets. Played in the style of Victorian men and their magnificent flying machines mixed with the slap-stick comedy of a Bernie Clifton style ostrich illusion. These colourful, comic characters demonstrate powers of flight and levitation, whilst enchanting all with their tall tales and terrible jokes collected from the far flung corners of the globe.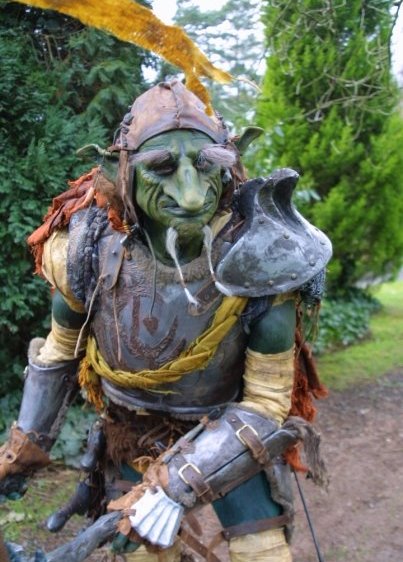 The Goblins have arrived! Prince Oddness and his servant Grotsick are questing to find a new Princess, auditioning members of the public they bring their topsy-turvy perception of our world into magical life.
But whose foot will fit the enchanted glass slipper?

OTTO & TEDDY's FAIRYTALE CHALLENGE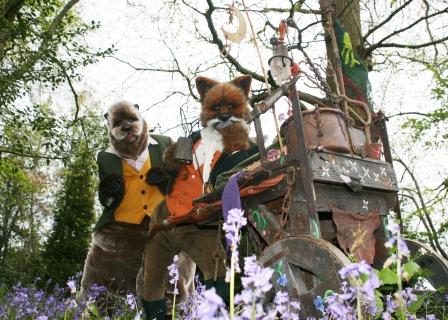 Teddy & Otto are the friendliest, funniest and furriest characters you're ever likely to meet.
Join them as they wheel a wooden cart through the crowd, marvel at their ancient relics from the greatest fairy tales ever to be told and test your knowledge in a quiz of fairy tale fantasy!
3 x 30mins or 2 x 45mins sets per day

Meet Crumpet the Elf and the penguin family, with a passion for fish these inquisitive larger than life birds follow Crumpet wherever he goes. Interact with these beautiful creatures give them a stroke and pose for a photo. Banter with Baby Egbertah and Urving Mackerel the talkative fish supper, they are certain to put you in the festive spirit.
Combining animatronic costumes, traditional puppetry, strong characterisation and witty banter, these gentle giants and their rumbustious charges are sure to enchant at any Christmas, Ice or Winter themed event.
3 x 30mins or 2 x 45mins per day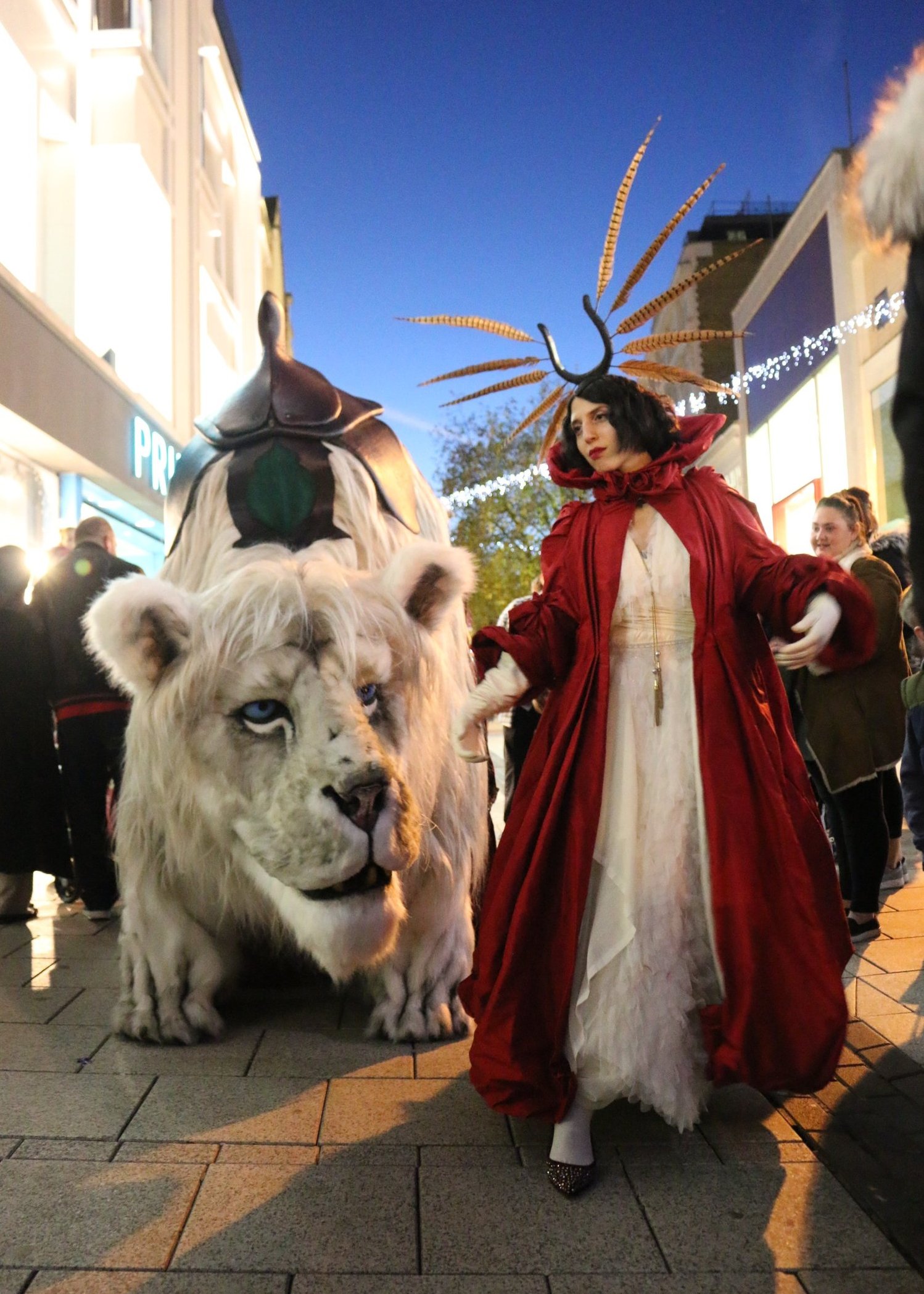 more...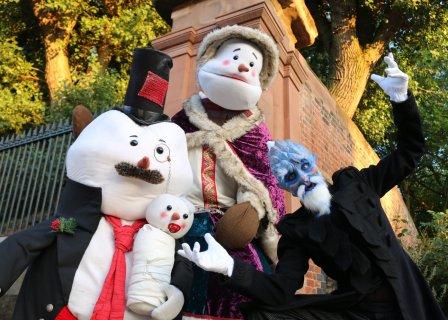 Allow Mr Frost the butler to introduce the Victorian Snow Family...Presenting the esteemed Lady Euphemia Winterbottom, her husband Major Berty and their little urchin Baby Snowflake.
With his business interests in the Far North failing and his assets frozen the Major has hit the sherry. In response the hard times the family now work the mix n'mingle circuit spreading festive cheer.
Combining music, animatronic puppetry, prosthetic masks, stunning costumes and comedic improvisation the Winterbottoms bring the spirit of the season into colourful life.

3 x 30mins or 2 x 45mins per day