Acrobatics to Variety Artists
Including Acrobats, Acrobalancing, Silks, Corde Lisse, Tight Wire, Trapeze, Rola Bola, Globes, Free running, Parkour

Shoestring Circus
also known as Richard Gillett / Professor Seltsam or Ricardo Raspinelli) - performs acrobatics, juggling, mime, balancing skills with or without fire show, or any mix required to suit your audience. Available for Corporate events, Promotional Events, Gala's, Family Fun Days and many more venues and events.
Available Nationwide based in South Yorkshire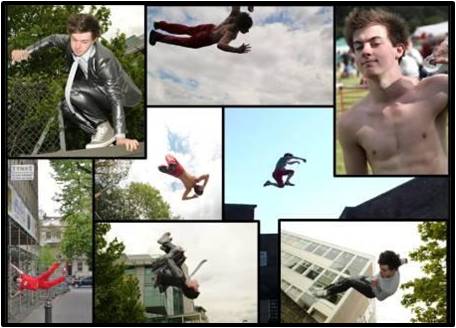 Jordan Wilcox
is a Freerunner / Parkour specialist. No stunt is too extreme for this guy. Available for demonstrations, TV, Film, Stuntwork, Galas and many more event types and venues.
Available Nationwide based in Gloucestershire
Frayed Knot Circus
also known as Edd Muir - For acrobatics of a different sort... Edd performs a Chinese Pole routine that will amaze you and leave you wondering 'how does he do it?' This short 5-6mins routine can be customized to fit into a theme of your choice eg Edd has performed his routine as Mr Cellophane, The Coca Cola Man, Spiderman or even Santa. Available for Theatres, Hotels, Corporate Entertainments any many more event types and venues.
Available Nationwide based in Merseyside
Acro Chaps - Not only are the Acro Chaps top acrobats, but they also have splendid moustaches, just perfect for entertaining your guests! Their absolutley spiffing performances range from Victorian and Edwardian Strongmen, to Sailors & City Gents...
Available Nationwide based in UK
Sticks & Stones Productions
- Statues that come to life and perform elegant acrobatics and acrobalancing to amaze your guests. Available all over the UK for Weddings, Hotels, Private Parties, Corporate Events.
Available Nationwide based in Berkshire
The Acro Elves - Donato and Pipa, stars of CBeebies Christmas Carol 2013, are Santa's favourite helpers! They have been left in charge of the workshop by Santa!
Their show is an original Christmas treat for all the family to enjoy!
Combining physical comedy with acrobatic skills, this colourful and exciting show is perfect to celebrate Christmas!
Available Nationwide based in UK

Acrobalance, Aerial & Chinese Pole Acrobatics available for hire
Book with A.R.C. Entertainments ring 01740 631292