Eileen & Joe Childrens Entertainers
Ventriloquist Act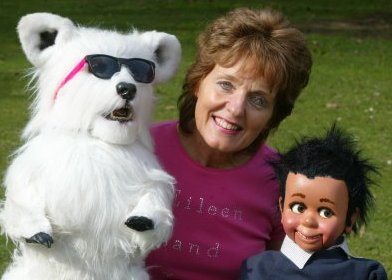 Ventriloquist Eileen Thompson available for hire from Co Durham

Eileen Thompson has been in the world of entertainment for the whole of her life. Her Father and Mother were professional singers, and her Grandfather Will Cowling was a very well-known Music Hall Ventriloquist. It is from Grandfather Will that Eileen has inherited her talent as a Childrens Ventriloquist and Entertainer appearing on TV at seven year of age, and over the last 25 years building a unique reputation in her profession.
Joe, the star of Eileen's show, was used by Will over one hundred years ago, but he is as spruce and lively as ever in Eileen's current presentation. Joe is joined by Nip the Dog, Daphne the Donkey (a French donkey!), Little Ben, Dexter the Dragon, Clyde the Orangutan and Mandy, Joe's girlfriends (who was also party of Will's act). There is even a cheeky squawking parrot called Dickie Bird who helps in the games along with Clyde.
A star-studded cast to bring fun, laughter, wonder and novelty to any group of children on any occasion.

Shows last from 20 mins to an hour