Mel Peake
Male Vocalist, Comedy Act & Frank Sinatra Tribute Artiste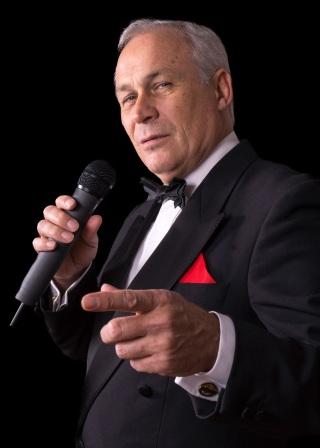 Mel Peake Frank Sinatra Tribute from Northamptonshire available for bookings

Mel Peake is a professional entertainer offering vocal / comedy act to a wide variety of clients throughout the UK. The business originally started out professionally in 2001 after many years of experience in the Entertainment profession.

Mel has a wide repertoire covering songs from the 1940s to date. He is also known for his accurate impressions of such artists as Elvis Presley, Cliff Richard, Tom Jones and Frank Sinatra.
His love of swing means he can provide a complete evening of swing 'Swing Sinatra' if required.


Over the last few years, Mel has spent many hours developing his homage to one of the twentieth century's greatest stars.
During research, he found that Frank Sinatra was not only one of THE greatest voices ever to have lived, which we all know, but also a fabulous raconteur and comedian. His monologues and interviews would stand the laughter test against some of the most talented mirth makers of his generation.
With a seemingly never ending back catalogue of some of the best songs and arrangements ever produced, including songs written by the likes of Cole Porter and Jimmy Van Huesen to Stevie Wonder and Jim Croce, backed by such great bandleaders as Tommy Dorsey, Nelson Riddle, Count Bassie and Quincy Jones, Frank Sinatra played a major role in shaping the musical tastes of a generation, from the Bobby Soxers to The Rat Pack.

With all this in mind, Mel works hard to be true to the spirit of the great man!

Mel's show is fully self contained, but the swing show can be provided with a live big swing band.

Mel is also part of a double act, Frankie and Robbie, a fabulous show including the work of Sinatra and Robbie Williams, plus other contemporary artists.

Mel Peake has a growing network of clients, situated throughout the UK, including theatres, hotels and restaurants.

Mel has also worked with one of the country's most respected trombone players and band leaders Mr Marcus Reynolds.

He now fronts Swings the Thing Big band recreating Sinatra at The Sands, The Main Event and The Concert for the Americas to come.

With a variety of shows to choose from, Mel Peake has membership of Equity, public liability insurance ensuring peace of mind.

Fully self-contained