The Royale Visit
with Queen Elizabeth II created by Electric Cabaret

Question: In a post-brexit Britain what can we laugh at...?
Answer: Ourselves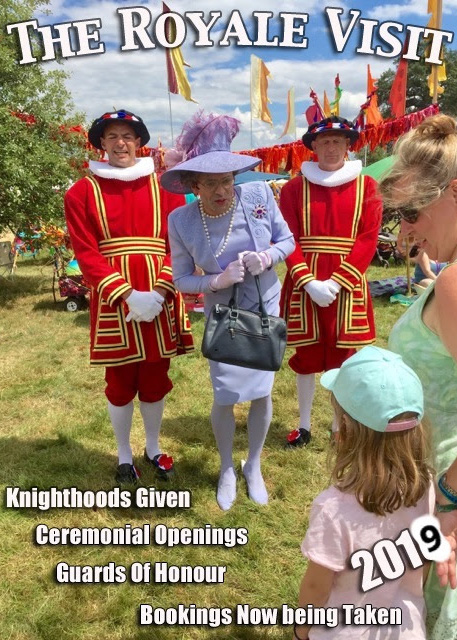 The Royale Visit by Electric Cabaret of Northamptonshire is available for bookings

Imagine the delight as the Queen effortlessly mounts her Royal Mobility Scooter and glides through your event, quintessentially British music, 'the Beatles played by a brass band' blasts from the speakers on the scooter and rouses the crowd drawing people's attention and ultimately their jaws drop.
The guards comically trot as they try to keep up and stay in formation, then a hush falls as the cavalcade stops, the elegant monarch descends and greets her public. An impromptu guard of honour is organised (by the beefeaters) with newly enlisted teenagers and dads, who stand to attention as they get inspected by the Queen.
A shop or toilet block is opened with polite applause and a ribbon cutting ceremony commences, knighthoods and gongs handed out…. The act was a great great success last year, lots of selfies, fun, giggles and mirth. Speeding Queen on the scooter and a festival main stage singing 'God Save the Queen'. All in a tasteful Roald Dahl / Quentin Blake style you understand. Of course!