Jeni Jaye as Madonna
Tribute Artist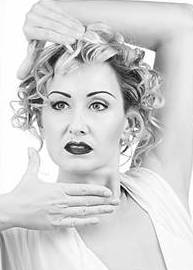 Jeni Jaye as Madonna Tribute Artist is available for hire from North Yorkshire

Another fab show performed by Jeni Jaye, her tribute to Madonna.
Jeni grew up listening to the Queen of Pop back in the 80s and would dress up and put on shows for her family.
It came as no surprise when in 2013, after not very much persuasion, Jeni took on yet another huge star in the music world.
Her Madonna show takes audiences through the years of recreating the iconic looks through the decades, from the raunchy cone boobs, to the fitness fanatic and many more...
The show is fully self-contained with its own sound engineer and lighting rig including moving heads, strobes, haze machines and pyrotechnics if required.
Available with 2 to 4 dancers, male and female.