Robert Burton's Bavarian Show
One man Oompah Band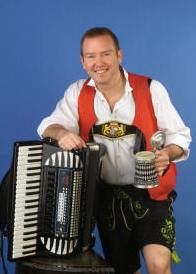 Robert Burton's One-Man Bavarian Show is available for bookings from Staffordshire

With over 35 years experience under his belt, Robert gives a fast flowing professional performance with authentic Bavarian attire and stage decor.
His top quality sound system is suitable for any size of venue, from a small dinner party to a full blown Beer Festival.
Your guests will be singing and swaying to the music with Munich's best loved beer drinking song and dances to a polka or two, not forgetting the obligatory 'I am a music man', before the patriotic 'Last night at the proms-style' finale.
Guests are encouraged to join in the fun and games by dressing up for the theme of the night. Prizes are awarded to the best dressed Bavarian Gent and Fraulein.

Fully self-contained