Zoot Circus
with Tim Byrom as Mr Herbert Dinkum
Circus Skills Performer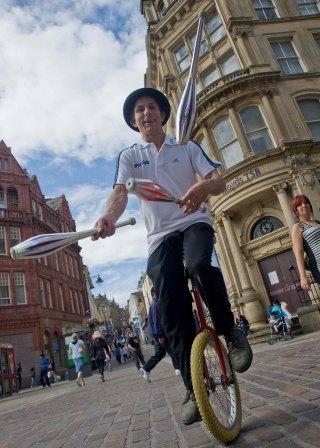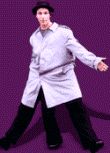 Circus Skilled Performer Tim Byrom if available for bookings from South Yorkshire
Equity Member

Tim Byrom of Zoot Circus is a Master of Manipulation with Circus Skills from Club Juggling, Ball Juggling, Poi, Staff, Devil Sticks, Flower Sticks, Diablo, Spinning Plates, Spinning Balls, Hat Manipulation, Object Balancing and many more...
His Skills with Fire will amaze you - fire Juggling, Fire Staff, Fire Swinging, Fire Devil Sticks, Fakhir (Body Burning) fire Eating, Fire Breathing (all safety regulations are strictly complied with)
Zoot Circus is well known for their Street Theatre Shows which combine all of the above plus Balancing Skills such as Unicycling, Strap on Stilts, Hand Held Stilts, Walking Ladder, Walking on a Giant Ball or Globe, Tightwire Walking and Rola Bola.
Tim is a multi-talented entertainer who can perform as a Mime Artiste if the need arises, Tap Dance, as when he's a 'Tap Dancing Turkey' (below), he plays the piano and the piano accordion.

Tim is always looking for new characters to add to his already wide repertoire.

His circus act has to be seen to be believed whether it be Stilt walking, Tight wire or his Juggling; his Circus Shows combine his highly practiced sense of balance with a comedy routine second to none.

His more recent characters 'The Tap Dancing Turkeys' were a storm at Christmas. Two charismatic birds, who are stuffed with Christmas cheer. They have fluffed up their feathers to present a fresh brood of routines with a unique combination of tap dance, turkey talk, and Christmas shopping tips.

Walkabout entertainment and short static shows
Tim Byrom can mix'n'match his many skills to bring you a funny and enjoyable performance whether that be as a Walkabout Character doing mix'n'mingle with the crowds, or performing a Street Theatre Show in front of crowds of people.
He is available for work anywhere in the UK, distance is no object and he is suited for Corporate Events, Indoors and Outdoor Promotional Events, Private Parties, Gala's, Fete's, Carnivals, Motor Shows, Christmas Festivals, just about anywhere.

Key phrases
Zoot Circus, Herbert Dinkum, Tim Byrom, circus, skill, skills, performer, artist, artiste,c lub, ball, poi, staff, juggle, juggling, juggler, devil, flower, sticks, diablo, plate spinning, balls, hat manipulation, balancing, fire, fire juggling, staff, swinging, devil sticks, fakhir, body burning, eating, breathing, street theatre, shows, unicycle, unicyclist, unicycling, workshops, strap on stilts, hand held stilts, walking ladder, walking, giant ball, globe, tightwire, walking, rola bola, mime artist, artiste, piano accordion player, balloons, balloon artist, artiste, model, modeller, modelling, South Yorkshire