Mr Dan
with Dan Dylan
Circus Skills Performer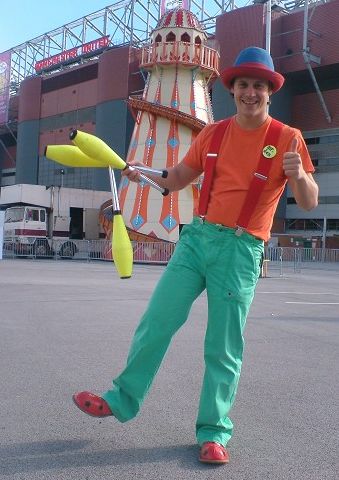 Circus Skilled Mr Dan of South Yorkshire is available for bookings

Mr Dan has lots of entertainments to show you. Shows to suit any event, some show ideas include:
Silly Circus Show
The silliest fool in town performs buckets of circus tricks with mountains of balloons. This fun packed show flaunts funny tricks and stupidity and is suitable for children of all ages and at all family events

Dangerous Dan Show
A traditional street act with real glass walking, bed of nails, fire performance, the giant circus ball, 30-40 mins of entertainment.
A courageous and humorous dare devil show !
You shall laugh in amazement when Mr Dan becomes Dangerous Dan to overcome Dangerous items 1, 2, & 3 for your entertainment only. Be amazed as he conquers the bed of nails and juggles fire on top of the giant red circus globe. This fun and friendly show is suitable for all the family and has been a smash hit in northern streets and communities for the last ten years.

Key phrases
Mr Dan, Dan Dylan, Juggle, Juggles, Juggler, Juggling, Stilt, walk, Walker, Walking, Fire, Performer, Circus Workshops, Human Knot Workshop, Balloonatic, Balloon art, artist, artiste, modeller, model, artistry,Teambuilding, Walkabout, Mix n Mingle, South Yorkshire