Steffen Peddie
Comedian, Compere, Actor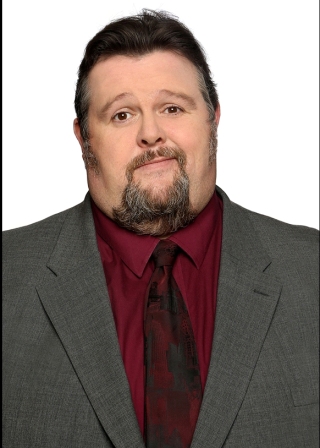 Comedian Steffen Peddie available for bookings from Tyne & Wear

Returning to Stand Up Comedy after an 8 year break as a Pro Wrestler, life has found Steffen Peddie a little older, wiser and bigger than before, but still ready to find the lighter side of any subject or audience member thrown at him.
Prior to his time away, Steffen had been performing for several years, in the North of England. An original member of Newcastle upon Tyne's 'Near The Knuckly' team with such luminaries as Gavin Webster and Ross Noble, he brings a different approach to whatever venue he performs at.
With Ross Noble, the two wrote and performed sketches on ITV's children's Saturday Morning Show 'Gimme 5' for a season, as well as doing a health & fitness show called 'Burst!' for ITV plus numerous regional shows in the North East. Now back doing Stand Up Comedy for the last six years, he has fitted in the TV adverts, Babies and general chaos to still provide the lighter side of life to audiences around the country.
Whether Steffen Peddie is compering and event, or performing his full comedy set, his wry observational humour make him one of those acts that cause you to bounce in your chair and smack your mate next to you shouting 'IT's TRUE!'
Not for nothing is Steffen known as one of the best comperes in the North of England, drawing from his life experiences as an angsty single guy, Children's TV Performer, Professional Wrestler, MMA Fight Ring Announcer, parent, husband, son and fat bloke. He's great at bringing the audience along for an hilarious ride, either as the main event or when acting as the MC as the self-termed 'comedy sorbet that clears your palate for the next act!'.

Reviews:
'I just wanted to let you know that our event last night at Newton Aycliffe Cricket Club was a roaring success - we had a full house and just about everyone was roaring with laughter with Steffen - he worked the room brilliantly and got everyone involved!

His act was just the right mix of comedy and stories - a bit risky at times but perfectly tailored for the mixed audience!
Thank you for your help in organising and thanks to Steffen for a fantastic time! Have a great Easter!' Valerie Palmer [Newton Aycliffe Cricket Club]
'Steffen Peddie was brilliant! The venue is quite small so you are basically stood with your audience, but Steffen carried the evening off without a hitch, combining his jokes with the people who were in the crowd that night, which makes an event a lot better I feel, as you know you're watching a comedian and not just some bloke reading off a load of jokes he has written down.
Steffen arrived at the event about an hour before we started, ran through with what we wanted, did his act, then hung around after the gig for about 40mins and went round talking to people, just an all round friendly bloke who I'd highly recommend to anyone looking for a comedian.' Lee [Butterknowle FC]
'A fresh emerging Geordie talent'. [Metro Newspaper]
'He holds the audience's attention throughout and leaves the stage with me wanting more'. Karen Slater [BBC Tees]
'The Big Man of Northern Comedy'. [The Newcastle Journal]