Professor Brian Llewellyn
Punch & Judy, Childrens Entertainer, Balloon Artist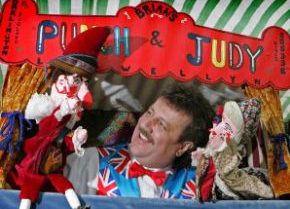 Punch & Judy Show with Professor Brian Llewellyn is available for hire from Co Durham
Equity Member

Professor Brian Llewellyn has been performing Punch & Judy since 1977 when his Father retired. Although based in Co. Durham Brian travels all over the North East of England performing indoor and outdoor shows.

Professor Brian's Punch & Judy have been known to be too politically correct at times... one occasion Mr Punch refused to eat Beef Sausages in case he got Mad Cows disease! The press thought this hilarious and so followed the antics of Mr Punch as he waged war against beef!

The shows are ideal for Shopping Centres, Family Fun Days, Promotional Events, Gala's, Festivals, Christenings, Birthday Parties, Children's Parties, Christmas, Halloween, Easter, Seaside resorts, Hotels, Schools, Indoor or Outdoor and for all sort of Corporate event.