Professor Ron Wood
Punch & Judy Shows with Magic & Balloon artistry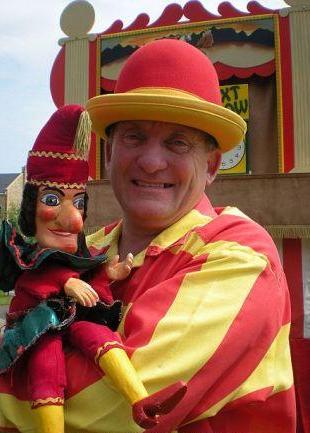 Professor Ron Wood's Traditional Punch & Judy Show is available for hire from North Yorkshire

If you want a show that is suitable for all ages then Punch & Judy is the perfect choice. Children love Punch and Judy as do many adults.
Each show lasts from 15 - 30 mins as required. You can have up to four shows in a consecutive four hour period
Shows can be varied by changing some of the characters and routines.
Punch & Judy is ideal for your Family Fun Day, Corporate, Council or School events, Galas or Open Days.
Professor Ron's Traditional Punch & Judy show comes with a large colourful puppet theatre which will stand out and look impressive at any venue.
The puppets are high up so the show can be enjoyed by everyone, even in large crowds.
You don't need to provide a thing as the Show is fully self-contained, it even has its own portable PA System.

Birthday Parties
Punch & Judy makes perfect entertainment for your child's birthday party. Ron's parties last for upto two hours.
The children will have lots of fun with Magic and Balloon modelling before the puppet show begins.
You can expect lots of excitement during the show as children call out at the antics of Mr Punch and his friends so be prepared for lots of noisy participation!
Following the Punch & Judy Show the children will have their party food before enjoying the finale of the birthday party with exciting entertainment before they go home!

So what makes a good Punch & Judy birthday party?
Punch and Judy is lots of fun and booking the right show is important.
Here are a few things that made Professor Ron's Punch & Judy show stand out -
Beautiful hand-carved wooden puppets

Fast moving and funny show

Lots of good old-fashioned knock about fun

Cast of well-known characters

Distinctive voice of Mr Punch using the swazzle

Loads of audience participation

Large, impressive puppet theatre

Puppets that come to life in the hands of an experienced performer
You don't need to worry about an electric supply as the Punch & Judy show has it's own portable PA System running off a 12 volt battery