Absolute Murder
Murder Mystery Events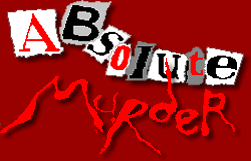 Murder Mysteries by Absolute Murder from Cheshire available for bookings

Absolute Murder will create a murder mystery unique to your venue or you can book on of their already very popular stories.
Introducing their most popular style of murder mystery evening. The event is set around lunch or an evening dinner, beginning with a pre-dinner cocktail where larger than life characters mingle with you and your guests, revealing the latest gossip and intrigue, while setting the scene for what may happen over dinner. Suddenly...
A SHOT! A SCREAM! And somebody falls dead! Before your very eyes!
From then on, it's up to you and your guests to solve the whodunit, as a series of interactive and highly entertaining scenes are performed between the courses of the meal, with the culprit being revealed over coffee...
The Classic Murder Mystery (suitable for 10 - 100 guests) includes: Choice of story line from their 'Classic' range, four professional actors / performers, props, detective notes, suspect profiles, pens, solutions sheets, 'Super Sleuth' and Defective Detective' certificates and prizes, onsite co-ordinator and the inclusion of their famous 'Hit List'.
[Note: It is a requirement of Absolute Murder that a secure changing area and light refreshments of sandwiches, tea, coffee and water must be provided for the performers]

Hit List & Bump Off or Kidnap? - Once you have booked your Absolute Murder Mystery, you are invited to provide a little background information on some of your most extroverted guests. Providing them with your best 'in-jokes', office gossip, scandal and motives for murder, together with some background information on your industry and what your company does. This is all good material for their scriptwriters and performers in order that they can give your guests personalised attention during the evening. The 'Hit List' is not obligatory, nor do they guarantee to use all the information supplied, but having said that, it does go down a storm. As a guide, they recommend two 'hits' for every 10 guests. The information can be emailed after booking. If booking late, the list can be surreptitiously passed to one of the actors at the pre-dinner reception.
You can also arrange for one of your guests to be kidnapped or murdered on the night (all pretend of course!) to be brought back as an angel or the devil. The victim has to agree to be part of the evenings entertainment, what they won't know is that while they are outside the room, one of our performers will be initiating a vote as to what guise they will return dressed as...

What happens at an Absolute Murder Mystery lunch or dinner? For a lunch or dinner murder mystery the event starts with a drinks reception lasting around 30 mins. In that time suspicious and larger than life characters mix'n'mingle with you and your guests, making themselves known... dropping clues and red herrings while setting the scene for what is to follow.
Once in the dining room and before any food is served, detective notes, pens and clue sheets will be ready at your place on the table. The actors then perform the opening scene, usually lasting around 10 mins. The first course is then served and the actors retire while you eat. Towards the end of each course, the actors return for interrogation, and then before the next course is served, the performance continues...
The rest of the event runs to this format with guests free to interrogate suspects as well as comedy banter between guests and performers until coffee is served, at which point you will be invited to solve the whodunit.
When all the answers are collected, there is a re-enactment of the dastardly deeds, followed by the winner being announced and prizes or certificates awarded for the winner and most defective detective.
The whole event, depending on numbers attending, storyline and the interaction between guests and actors, runs for between 2 and 3 hours and finishes after coffee is served.