Art Deco Productions are one of the market leaders in the corporate and private entertainment industry covering the whole of the UK and overseas.

They can offer a variety of Murder Mystery Plots such as:
Four Actors:
The Twelve Deaths of Christmas - Christmas Themed Event;
A Dose of Death - A Pharmaceutical / Medical Based Plot
Party to Murder - Classic Country House Party; T
he Spirit of Murder at Fircombe Hall - Haunted House Format
The Mask of Death at the Thymeley Ball - An Annual Ball;
Links to Murder - Golfing Themed Event
Murder at Chuff Hall Hotel - Hotel Based Murder Mystery;
A Maritime Murder - River / Sea or Boat Theme
A Shocking Murder - Music Business Mystery;
A Gamble On Murder - Casino Night Murder Mystery
The Mysterious Fall from Grace - Country Home Theme
plus
Casino Fatale - James Bond Theme;
'Ullo, 'Ullo - World War Two Based Theme
A Shirt in the Burke - Pink Panther based plot;
Murder at the Golden Globules - Hollywood Awards Night

Two / Four Actors:
A Lesson in Murder - School/College Themed Plot with two/four actors;
Murder in a Thymley Manor - Classic Manor House Plot with two/four actors
Signal To Murder*
Timetable to Murder*
[* These two railway themes have been written to work in any venue but are ideal for heritage railway centres, train museums or even on the train during a trip with dinner]
plus
A Capital Murder - Finance Based Mystery

Two Actors:
The Lady Killers - Hen Party
A Stab In The Dark - Garden Party Theme
plus
The Titanic Murder - Set in the Titanic Dining Room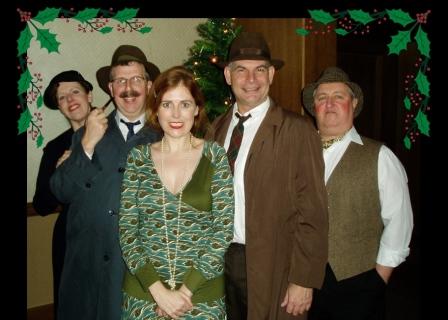 The Twelve Deaths of Christmas
- It's Christmas Time once again and the Thymley over Actin Villagers are gathered to celebrate what should be the season of peace and goodwill. However, there have already been eleven mysterious deaths associated with the popular Christmas song and everyone is wondering who will be next? Has postmistress 'Trixie Truelove', delivered her last card? Has sweet 'Polly Peartree' handles her last fruit? Can 'Peter Partridge' stop looking so nervous? Can you help D.I. Archie Bauls solve the previous murders before the killer strikes for the twelfth and final time? Join them for a fun-filled evening with murder, intrigue and non-stop laughter!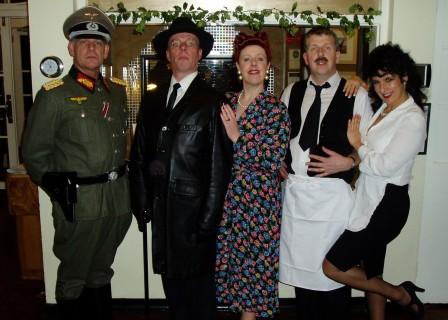 'Ullo, 'Ullo Resistance is Futile
- World Ward Two Based Theme with Four / Five Actor Plot with (Left to Right) Lieutenant Hubert Gruber, Herr Flick, Edith Melba Artois, Renee Francois Artois, Yvette Carte-Blanche

Team Building with Art Deco Productions
CSI: Murder Squad
Interactive Team Challenge for upto 60 delegates
Three hour long interactive team challenge. You will be part of the CSI team utilising methods and equipment currently employed by police forces in the UK and abroad including fingerprint identification, hair, fire and blood spatter analysis. With meticulous attention to detail, the event is lead by your host a Senior Investigating Officer and a current professional forensic investigator who will teach you the methods and technicalilties of CSI.
Murder Investigation
Team Challenge

Soap Opera
Team Challenge for upto 100 delegates
Recreate your new soap opera 'East Corriedale'

Lookalikes / Mix'n'Mingle Characters
Art Deco Productions can create a variety of mix'n'mingle / walkabout characters for your event, but can also offer lookalikes
Martin Gaisford as Hercule Poirot (above) & Jeff Bennett as Inspector Clouseau (above)